158 new trainees start their training
158 young people are now starting either traditional or dual-study training programs with the Lufthansa Technik Group. In parallel, the selection process for 2019 is already underway at www.be-lufthansa.com/technik. All told, Lufthansa Technik in Germany will now be home to 582 young people on their way to professions in technical aircraft services or aircraft logistics.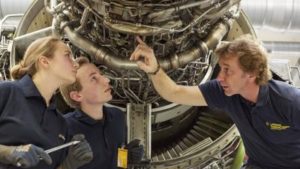 Beginning in 2019, Lufthansa Technik intends to nearly double the number of training slots in Hamburg and Frankfurt over a period of several years. This decision was made on the basis of the company's good economic development and the fact that many of its employees will soon reach retirement age. Several subsidiaries are once again increasing their trainee numbers as well: In particular, Lufthansa Technik AERO Alzey plans a significant extension of its training
activities.
Among the 78 trainees starting in Hamburg are three deaf people, who are part of a project that Lufthansa Technik launched in 2000: Every two years, deaf people have the opportunity to become tool mechanics, with the vast majority of graduates going on to work at the company's workshops in permanent positions.
46 of the new trainees are joining programs in Frankfurt, 16 in Arnstadt, 11 in Alzey and four in Munich. Applicants were able to choose between 12 different professions and courses of study.
Digital maintenance: In Hamburg, 22 trainees have begun a program to become electronics technicians for devices and systems and will thus work in specialized workshops in the future. Twelve aircraft electronics specialists are being prepared to work directly on aircraft in Frankfurt. A total of 97 young people are starting their training directly at Lufthansa Technik.
Lufthansa Technik AERO Alzey, the Lufthansa Technik Group company with a successful focus on overhauling smaller jet and turboprop engines, has taken on eleven new aircraft mechanic trainees with a specialty in engine technology. With this step, Lufthansa Technik AERO Alzey is expanding its training capacity once again (it now has a total of 35 training slots) to safeguard the company's strong growth over the long term with motivated, expert specialists.
Lufthansa Technik Logistik Services (LTLS) has 29 new trainees for the future-oriented profession of warehouse logistics specialist as well as two people training to become specialists for forwarding and logistics services. With a total of 76 training slots, Lufthansa Technik Logistik Services has the largest training program in the Lufthansa Technik Group aside from its parent company.
N3 Engine Overhaul Services, a 50:50 joint venture with Rolls-Royce that is headquartered in Arnstadt in Thuringia, has also increased the number of training slots compared with last year: This location is now home to 16 young people training to become aircraft mechanic engines and three warehouse logistics specialist trainees. With a total of 53 trainees, N3 is also very important as a training location.
The percentage of women among the new trainees amounts to 10 percent this year, which is three percentage points lower than the year before and also below the average of the past five years. Lufthansa Technik will keep an eye on this development and continue its efforts to win over women to future-oriented technical professions.